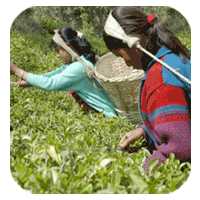 With the advantage of diverse agro-climatic conditions and eco-friendly cultivation methods having very little or no inorganic fertilizers and pesticides in use, Nepal is producing very good quality tea. both CTC and orthodox tea.
Beginning of tea plantation in Nepal goes back to the year 1861 when Mr. Gajaraj Singh Thapa., the Chief Administrator of Ilam district and the close relative of the Rana Prime Minister Jung Bahadur Rana planted the first tea garden-the present day Ilam Tea estate, with an approximately 5o hectares.
Today, Nepal has in total an estimated 10,000 ha. of its land under tea plantation. Hill plantation is estimated at 3,400 ha. consisting of more than 40 tea gardens, around 4,500 out growers and 11 tea grown in terai is used for making CTC (black tea) and hill tea is exclusively processed for making the orthodox tea. is exported to the overseas and dust grades are used by tea blenders and packers. Almost all CTC produced within the country is marketed locally for domestic consumption. The production of CTC and orthodox tea in Nepal is around 5.4 and 0.6 million kg. respectively. Nepalese orthodox tea, which is produced at altitude between 3, 000 ft. to 7, 000 ft. are famous for their aroma, bright liquor and subtle, slight fruity flavour.
Tea in Nepal has good prospects due to: agro-ccological conditions; expanding markets; environmental considerations; employment and rural development.
The major hill plantation districts are : Ilam, Terathum, Dhankuta, and Panchthar and it is expanding to other hilly districts too. Terai tea plantation is Jhapa district.